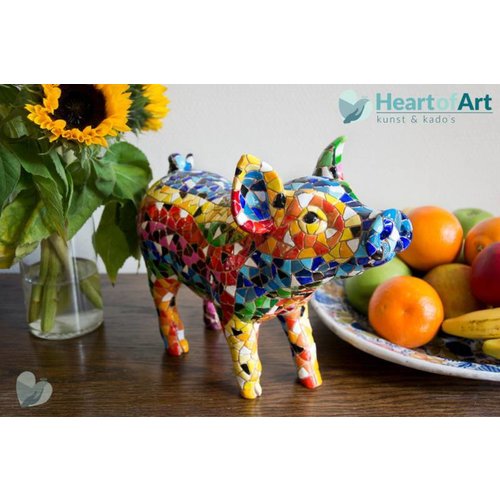 Barcino
Maybe you met Barcino on a trip to Barcelona? Here you'll find the mosaic collection and get to know many Barcino designs and start a colourful collection! Barcino produces unique anatomical images with Gaudi's familiar mosaic pattern. The pictures are bombastic with attractive colours and make an eye-catcher in every interior.
Antoni Gaudí
Barcino produces great photos with the world famous mosaic pattern of Antoni Gaudì. The architect was well known in Catalonia. Especially in Barcelona he designed buildings and objects. The most famous object is the attractive Sagrada Familia in Barcelona, which is admired by many people every day. The architect also designed several buildings in Barcelona and his views can also be found in the prestigious Park Güell, which offers guests a visible experience. Gaudí is a founder of organic architecture dar. The works of the architect fall under the category Art Nouveau and Art Nouveau. The Catalans call this style Catalan modernism.
The Barcino collection
Barcino has a large collection of bombastic photos. All products are completely hand-painted and made of solid and fine synthetic resin (polyresin) or ceramics. The Gaudi Foundation approves Barcino's products and therefore their original character has been preserved.
The photogenic Spanish bull
The Barcino - top product is without doubt the picturesque Spanish bull. It is offered by Barcino in different colours and a select masterpiece represents the red bull. Only 48 specimens of this bull were made. The image creates a unique object made of strong cold cast resin for the interior and is a real eye-catcher. A breathtaking image with a weight of 14 kilograms, which never loses its special temperament and charisma.
The alliance with the sea
Barcino offers whales, dolphins and colorful fish in attractive blue-green colors. Dolphins are loved by many people. A unique gift for dolphin lovers or just for yourself. The extensive dolphin statue on a ceramic pedestal is a limited edition of Barcino. The statue with its attractive colors and appearance is an attraction and feast to see.
Extensive selection for animal lovers
Barcino's extensive collection includes statues of dolphins, owls, rabbits, salamanders, bulls, pigs and cows. For animal lovers is a huge selection. Because of the beautiful colorful mosaic is a lively and cheerful representation of the images. Because of the influence of Gaudì, the images immediately convey the wonderful summer feeling of Spain.